MAKING A DIFFERENCE
PERSONALISED CHARITY GREETING
CARDS, INSTANT TEXT & E-CARDS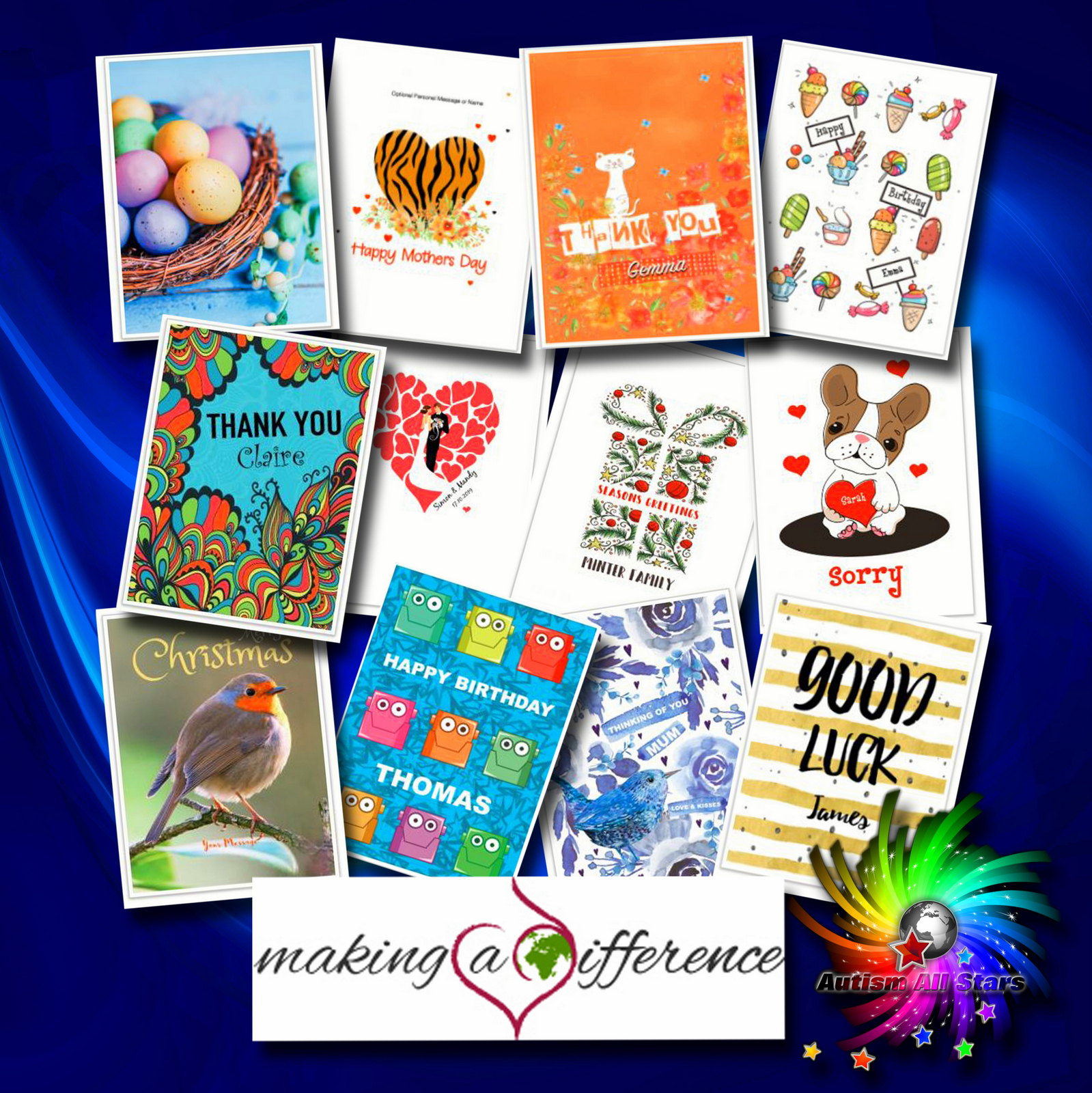 You can now support us when you buy personalised greeting cards or send instant text and 3D digital E-cards, thanks to the brilliant Making a Difference Cards
With a minimum donation of £1 being donated to help our vital work – your cards really will make a difference!
They offer cards for every occasion and with options to add video or audio greetings, use your own messages, artwork, poems or photos, you really can create wonderful keepsakes while raising us some much-needed funds.
If you'd like to send cards to your friends and neighbours but you don't have their emails or you're worried your cards will go into their Spam folders, SMS Charity Cards are the perfect solution! All you need are their phone numbers and you can send them fully responsive, personalised 3D E-cards via text message. You can see them in action here: CARDS BY TEXT MESSAGE
The E-cards are really something special – very different from any others I've seen. Have a look at how to add audio, video and all kinds of amazing things here: INCREDIBLE E-CARDS
Family and Corporate packs of Christmas cards are also available and you can pick your delivery date up to a year in advance!
Every card offers the following choices:
• £1 minimum donation to Autism All Stars
• Use your own message, poem, artwork or photos – Turn these into unique gifts whilst donating to us – send them to your loved ones who can treasure them or even frame them to be enjoyed forever
• Add a video or audio message to your card
• You can increase your donation and let the recipient know that it is in lieu of a gift
• You can show the donation amount in the card or not
• Choose gloss or matte finish and card size
• Option to send it by post or by email as a personalised charity E-card in digital 3D
• Choose the date your card will be sent – up to a year in advance
• Family and Corporate packs personalised with your name or logo are available for all Christmas cards and E-cards
• Signature upload available on all cards – at no extra cost
Whatever the occasion you can now spread a little extra joy, so remember to send your love,
and help us improve the lives of autistic people and their families at the same time.
For more great ways to support us,
including some that are absolutely free, visit our